Wayne Trail

>

Resource Center
Resource Center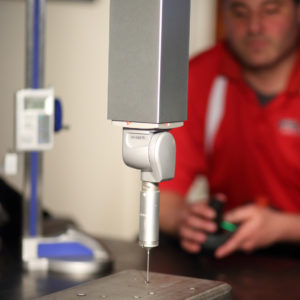 Quality Statement
Wayne Trail has established, documented, and implemented a Quality Management System (QMS) which conforms to the requirements of ISO 9001. Our quality policy statement is as follows:
"To focus the efforts of the entire Wayne Trail Team on continuous improvement, while totally satisfying our Customers with defect free, reliable, and maintainable products and services."
The policies, objectives and procedures defined within our quality system apply to all operations and processes performed by Wayne Trail employees. We are committed to meeting customer requirements, needs and expectations and continually improving our QMS is our top priority.
Within our QA/QC lab and on our assembly floor, trained and certified Wayne Trail technicians perform a variety of precision inspection and data collection services for tooling and equipment that require strict adherence to MIL, ISO, and other rigorous end-user specifications. Our inspection equipment is well maintained, regularly calibrated, and includes coordinate measuring machinery (CMM) in both 'fixed' and portable styles, a variety of gauges, measurement tools, computer software and hardware suitable to meet nearly any inspection requirement.
ISO 14001 Certificate
ISO 9001 Certificate
Wayne Trail Quality Policy Statement
Wayne Trail EHS Policy Statement